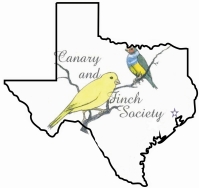 Our Purpose...
The Canary and Finch Society is a non-profit educational organization. Our purpose is to promote all birds, particularly the canary and finch, through educational programs, group discussions, publications, fairs, and bird shows.
Upcoming Events...
Canary and Finch Society
Meeting Schedule
We meet on the second Sunday
of each month at 2 P.M.

Program for December:
Our meeting this month is this Sunday December 8th at 2:00 PM.
Board meeting is at 1:00 PM.
Remember your membership dues are due!
The agenda that we will be discussing this month will be
· Christmas Party
· Questions and Answers
· Election of Officers and Board
Hope to see lots of friends and have wonderful fellowship!
Everyone is welcome at the Board Meetings!
Hope to see you soon, Lisa Holmes

Board Meeting - 1:00 PM
Membership Meeting 2:00 PM
Hope to see you at CFS Meeting!
Bring your favorite dish to share and a raffle item. Lets have some fun and fellowship!
MEETING LOCATION
Our new meeting location is: Almeda United Methodist Church 14310 Almeda School Road (just off the Sam Houston Tollway).Click on the "Directions to Meetings" link above for our new location and a map to help you locate the church.